Expert at Meeting Table Designs and Shapes
When designing and making the best conference tables, many people look to KZ Bespoke as the company they can rely on. However, because of the quality of our customers and the fact that we have worked with some of the largest corporations in the world, we are also obligated to uphold specific standards—a duty to offer our customers the very best service possible at all times.
We take great care to guarantee that each of our customers will receive conference tables that are crafted precisely to their specifications. Because of this, we provide our customers with a wide variety of choices when it comes to selecting a conference table. In addition, they are given the opportunity to select the shape and design of their choosing from among the many options that we provide.

KZ Bespoke Design and Shape
KZ Bespoke provides a wide variety of different designs, as was previously indicated. We offer a selection of designs that are considered to be the industry standard, a selection of designs that are unique to us, as well as designs that our customers can have customized to reflect their individual tastes.
Our priority is to supply our clients with the size that is most suited for the boardrooms they have, regardless of the design they select from our offerings.
Before we begin constructing the table, we take into account the dimensions, layout, and ambiance of the boardroom to ensure that the table will be an appropriate fit within the boardroom.

Some of our standard designs are

Boat Shape
If you are searching for something that encourages teamwork while simultaneously maintaining the hierarchy, a table in the shape of a boat is a good option for your conference space.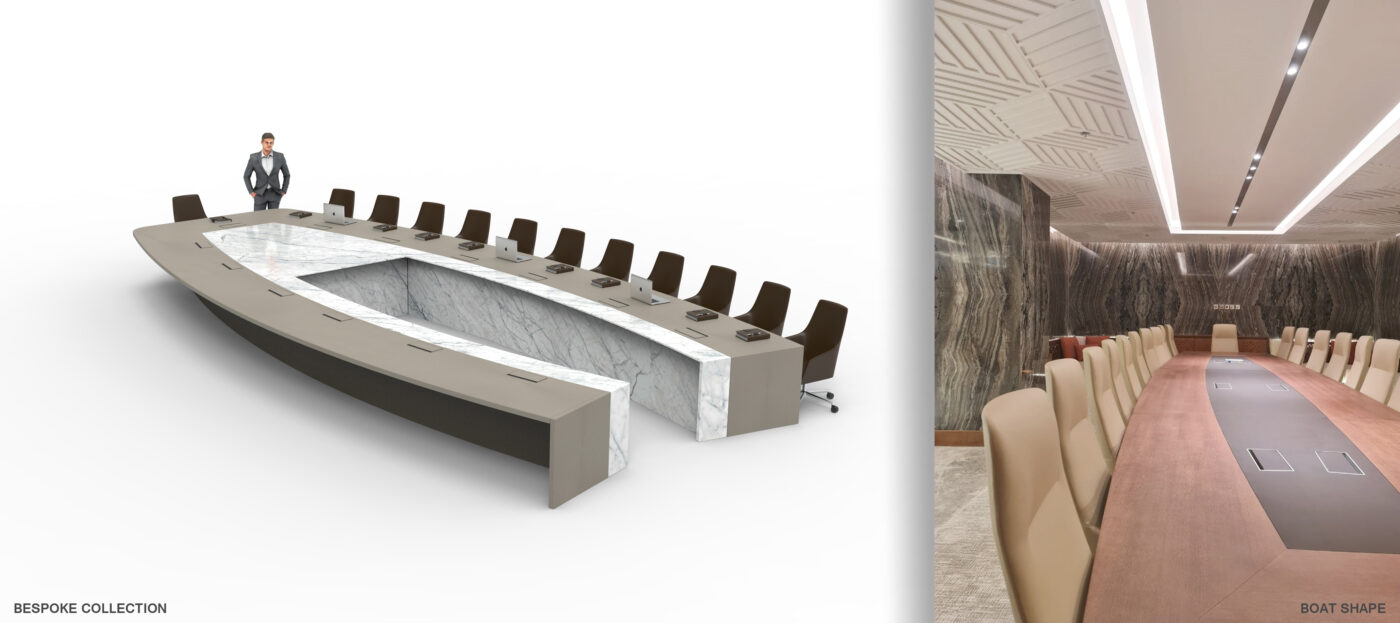 KZ Bespoke boat shape table is an excellent blend of classic shape and modern touches, giving this well-loved silhouette a fresh twist. The adaptable design works well in virtually any kind of office setting. According to the criteria, the characteristics of the table might include a built-in power and data module, which would make the task of wire management much simpler. In addition, there are power outlets, USB ports, data ports, and optional LCD screen options, all of which combine to make this high-class piece deserving of being shown in your boardroom. You can also ask for the necessary adjustments to be made to the conference table so that it meets all of your requirements.
Bespoke Collection
The Bespoke Collection is a unique design of ours that our customers can have built to their specifications. It is an excellent option for a space designated for several uses.
This form is available in a wide range of variations. If you want specific alterations, you may also get them personalized. In addition to this, we also provide our customers with the choice to acquire additional storage compartments if they so desire. Finally, when it comes to protecting assets like money, documents, and other essential items, we can install high-quality drawer locks.
Our team of experts also visits the companies of our clients to get the measurements. We examine the room and its size and advise our customers about what shape and design of the meeting table would be suitable for their conference room.
Our Exclusive design
Round Shape
Our Round Shape Meeting Table is ideal for use in rooms designated for brainstorming since it encourages collaboration and the pooling of resources without designating a single person as the table's leader.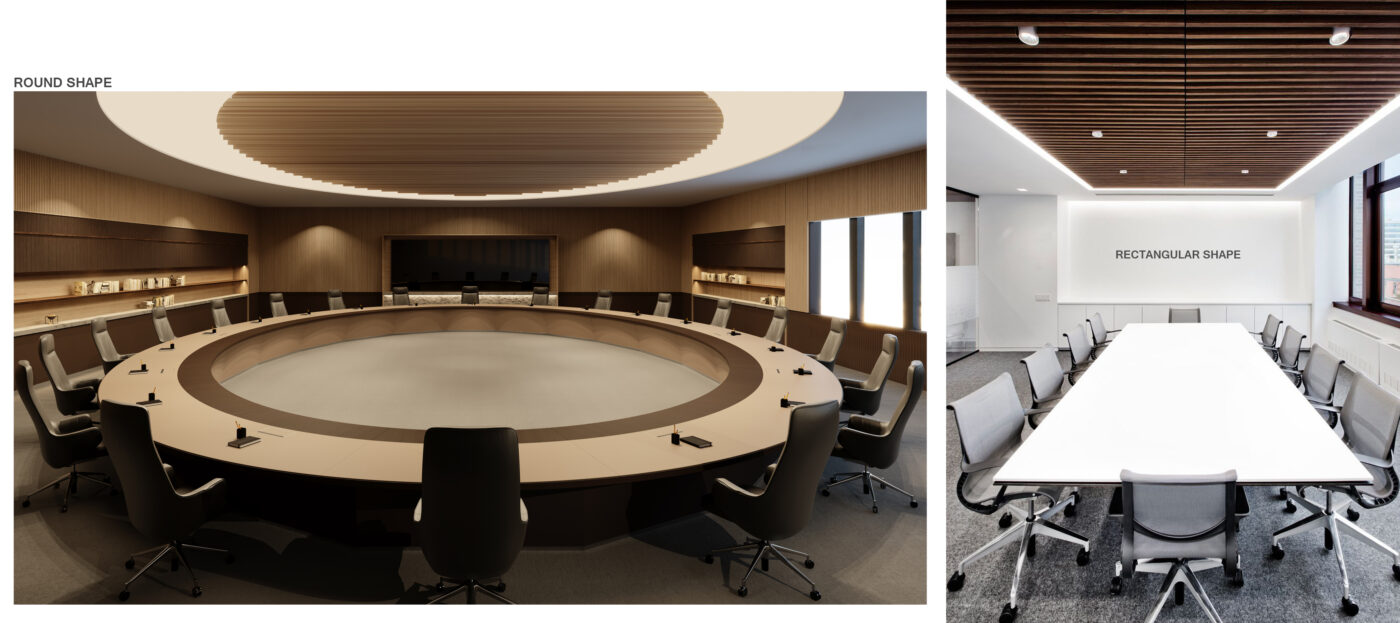 It makes no difference what size your conference room is, whether large or tiny. This table is available for customized products to meet the specific needs of your office. Both the color and the size are up to you and can be altered to suit your preferences and needs. KZ Bespoke provides you with all of the possible alternatives for the conference table, so you can choose whether it will seat 5 people or 25 people. This table is built to last and also comes with a wide variety of possible additional features and accessories.
Rectangular Shape
If you are seeking a table that can accommodate a hierarchy, the rectangular shape is a wonderful choice for you to consider. The person at the head of the table will find it much easier to communicate with the entire group if the table is rectangular in shape. The most appropriate setting for it would be an executive boardroom.
It, just like the other tables, can be altered to fit the dimensions of your room if you so choose. It is one of our designs that has seen the most demand. We make it as user-friendly as possible by incorporating several different instalments and using the highest quality materials possible.
Open Core Shape
If you are searching for a table that will facilitate working together as a group and concentrating on a particular objective, the Open Core shape is an excellent choice to consider.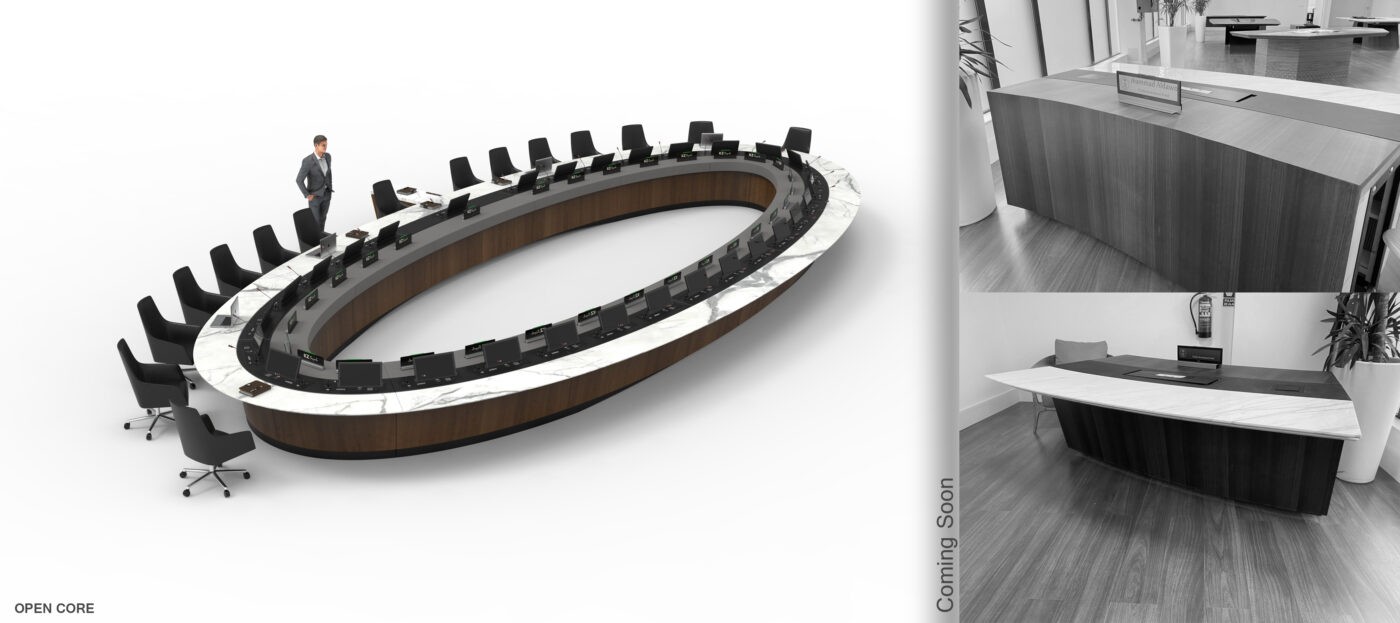 You can also have this tailored to fit the dimensions of your room and the number of guests you intend for the table to accommodate. We incorporate a variety of components while keeping the needs of the space and the business in mind at all times.